Our Highest quality Kiln Dried firewood logs 5-20% moisture content.
We sell Kiln Dried firewood logs suitable for use in solid fuel boilers, stoves, campfires, fireplaces, hearths and open fires and Wood-fired pizza ovens. The owners of any heating equipment's (from small stoves to large boilers) will find suitable firewood at an affordable price.
The logs are cut and split to the length of: 200 mm (8"), 230 mm (9"), 250 mm (10"),300 mm (12"), 450 mm (18").
Ash, Oak, Birch, Alder kiln dried logs are dried in our automated purpose-built kiln to produce timber that's as dry as possible using Biomass Technology fuelled from  the by-product created in our sawmills – nothings goes to waste. Kiln dried logs are recommended by stove manufacturers. They give more heat, burn cleaner and longer. A cleaner burn results in a cleaner flue and stove glass and crucially, less pollution.
Drier wood means constant flame and burn time as well as a cozy warmth for your home.
Medium net / plastic bags:
A durable net bag of approximately 20-22l, making it light, easy handling and storage around the home. Strong package. Easy to carry. Personalised label available.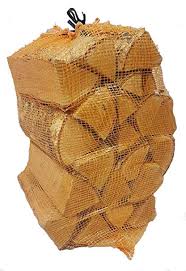 Big net / plastic bags:
A durable net bag of approximately 40l making it a convenient option, strong package for everyday use. Personalised label available.
Kindling net / plastic bags:
Clean, Dry Kindling. Use To Start The Fire. The low moisture content of our kindling means you only need a couple of sticks to get your fire off to a great start. Personalised label available.
Quoting volumes of loose or stacked. Delivered builder's bag of loose logs when  stacked, takes a lot less space. Industry standard is stacked volumes should be multiplied by around 1.7 times to calculate the loose volume. For example 1m3 of stacked logs would equate to the same volume as a 1.7m3 builders bag. Each kiln dried log achieves the same output a 3 normal seasoned logs and they burn everything, even the gasses released allowing a cleaner, crisper burn. No spitting or sparks with minimal ash to clear up. With No additional drying time required kiln dried logs can be stored anywhere, indoors or out!